Finest quality equipment and supplies for your commercial beverage production facility
Winemaking Shop
Highest quality winemaking equipment and ingredients for your premium wine production.
Brewing Shop
Intelligent and technological brewing equipment and supplies for commercial craft brewers.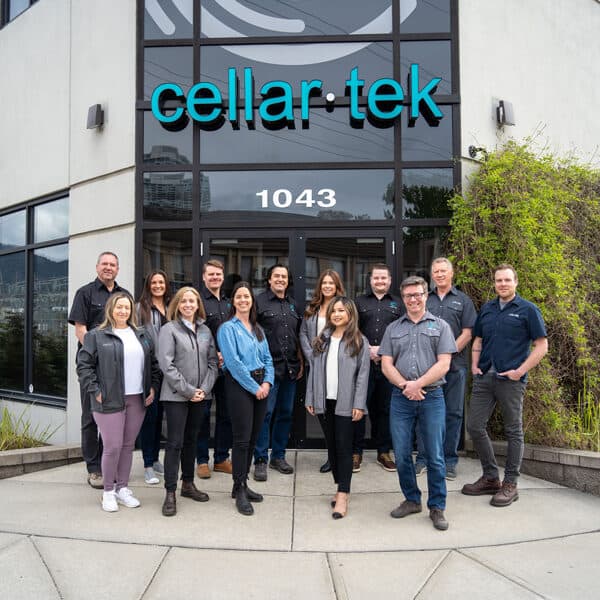 The Cellar-Tek way!
We're a supplier to the commercial winery, brewery, cidery & distillery industries across Canada & North America.
Founded in 2004, Cellar-Tek was born from the idea that wineries, breweries, cideries and distilleries wanted honest, local technical support and service from their equipment & supplies distributor. Operating under that model, Cellar-Tek has grown from its humble beginnings in the heart of the Okanagan, British Columbia wine region to encompass 15 employees across the country. Customers are serviced from two stocked warehouses, one located in the craft beer district of Kelowna, BC and the other in the heart of Niagara wine country in St. Catharines, ON.
We are continually searching our global network for the finest quality equipment, products and supplies for the commercial beverage production industry.
Contact Cellar-Tek
What our customers have to say
Hi Andy,

Thank you! Thank you! Thank you!

We were positive for Pectins on the Chard and Pinot Noir that just went to bottling. The addition of the enzyme (even though not yours at this time) cleaned up the wines, and we were able to filter through the 2-micron filters reducing the NTUs to our bottling specs without any trouble at all. These were in totes and I ensured we filtered from the top and then to the bottom valve.

We have since put into practice the checking of the wines for Pectins and Glucans and have found several of the 2016 being racked out of barrels are testing positive for Pectins. It will be fresh on our minds so that we are able to address the additions to the Crush Pad moving forward. Thank you again so much for the information, the service and just overall attention to our wines!

I will be looking at the filters we have in stock and will need to place an order. We are targeting the next round of filtering on these wines in the last week of August.

Barbara Hall
VQA Winemaker, Andrew Peller Limited
I was in a pickle a few weeks ago and needed a high proof spirits pump for a distillery project. I did what I usually do when I don't know much about a subject, I reached out to the experts. Within a few calls, Cellar-Tek stood out. I called their office and was impressed with the customer service I received. I connected with Powell, a partner there and was grateful to have a subject matter expert guide me through the process. Needless to say, I picked up the right pump for the right job.
If any winery, brewery, cidery or distillery has a need for equipment and supplies I strongly recommend the team at Cellar-Tek! You'll be in good hands with honest, local, technical staff that value customer service and truly care.

Jerin Mece
Founder & Co-Owner, Nude Beverages
The only company/wholesaler who has gotten back to me with any useful information is Cellar-Tek. They are very experienced in the brewing industry and I have had discussions with them with regard to our project and the scope of work. They have provided useful direction and information which is very hard to obtain without a commitment from the buyer.

I strongly recommend you call them and purchase your chiller directly from them to save some money. The glycol piping loop to the chiller from the tank and the loop interconnecting the fermenting and conditioning tanks will be engineered by Cellar-Tek. They are also available for consultation and I encourage you to consider this route. This will provide Nathan with the information he requires to install the necessary piping, controls, valves etc.

Michael Hoenisch
Partner, Pinnacle Food Equipment Services
Hello Justin,
Corrie, thank you for the time you spent with us today. I think that Cellar-Tek continues to demonstrate their focus on being "THE" supplier that wineries can call on for service, support and supplies! We are excited that we have the opportunity to work together directly through your twice-annual personal visits, over the telephone or email and through consultative needs by sending you samples. We appreciate the partnership approach you and Cellar-Tek bring and we look forward to working closely together in the future.


Frank Gregus
Co-owner, Pacific Breeze winery
Talking about his new Spadoni RDV filter:

"The machine has been everything we expected (i.e. a godsend.)
Thanks Cellar-Tek for meeting the promised delivery date… with the early harvest I was getting nervous.

Jeff Martin
Owner, La Frenz Winery
Hey Natalie,
Just a quick note to thank you for helping out so quickly with that tank part. It really helped us out and we've been able to keep going on significant tonnage of Point Noir today, Otherwise, I'd be in a big jam.
Thanks again for the support. Talk soon.

Jay Johnston
Winemaker, Flat Rock Cellars
Cellar-Tek demonstrates commitment to the success of each individual winery as well as to the development of a professional Canadian wine industry. They make our cellar problem theirs and they are determined to find the right solution!"

Nikki Callaway
Winemaker, Laughing Stock Estate Winery
No Thanks required. I am the one who is thankful and I really appreciate your time and kind comments.
Any improvements in the wines are due in a large part to your suggestions and I have learned so much (and I know still have to learn) from our conversations. I can see the improvements in the wines too and hope to continue to make progress.
Thanks again, you're welcome at Cherry Point any time as it's always a pleasant and enlightening experience. I hope we can continue to have this relationship with yourself and Cellar-Tek and that it is beneficial to you as it has been for us.

Dean Canadzich
Winemaker, Cherry Point Vineyards
Hey Guys, I wanted to thank you all for making this vintage a smooth one. (Smooth is a relative term) In particular, I want to sing the praises (as we would at the Blasted Church) of Justin.
1. Hardworking
2. Knowledgeable
3. Courteous
4. Professional

Give that man a bonus!

Mark Wendenburg
Winemaker, Blasted Church Vineyards
We had a delivery of the press and filter last Friday.
I would like to express my appreciation to Justin – a very good job well beyond his direct duties. As a final touch of your sales process, it's important to provide smooth, timely and worry–free delivery of such bulky equipment – again he did a great job!

Oleg Aristarkhov
Owner, Moraine Estate Winery
Alayna,

Just wanted to let you know that the caps arrived last Saturday and bottling this week went super. No issues with the caps. They look great. Really appreciate your help to get these in time for our bottling.

Rolf de Bruin
Founding partner, Fort Berens Estate Winery